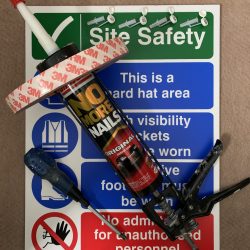 We are able to source and supply a variety of different adhesives, adhesive tapes and sign fixings and fittings, from double-sided tapes, glues and screws, through to sign stands, frames and display boards and cabinets. The options available are endless and are dependant on personal preference and suitability for an environment.
Double-sided tapes are a cheap, quick and easy way of applying rigid plastic signs to your walls semi-permanently, but some are so good that you can pull layers of paint and even plaster away from walls when it's time to remove them and redecorate. Removing a self-adhesive sticker sign though could cause even more damage as the adhesive is very strong and covers the entire back of the sign – for this reason we would nearly always recommend installing rigid plastic signs.

Many sign installers will use a sealant type adhesive such as No More Nails or even a simple silicone sealant to hold signs in place. It's a quick, cheap and easy method, as long as you don't have to hold it in place for several minutes while the adhesive dries and bonds (Tip – apply a small amount of double-sided tape adhesive to hold in place while drying so you don't have to!)
Command-strips, glue dots and velcro tapes are another way of applying to signs to walls instead of screws in a more termporary way, which is great if you're looking for a short-term solution with damage limitation.
Displaying certain informational signs in snap frames, clip frames or photo frames can be beneficial as it can give your signs quite a prestigious look to them and allow them to be hung from a single screw or hook, but this is not a practical solution for every environment where they may be prone to movement or removal – some signs, particularly fire safety signs simply have to be applied with a degree of permanence.
Screwing signs in place is probably the most secure option, and we will happily provide our signs with 1, 2 or 4 screw holes at no additional cost. We generally don't stock a range of screws but we are yards from a ScrewFix so sourcing them for you with appropriate wall-plugs is not usually a problem. We would recommend the additional use of screw-cups or screw-caps though for a more secure fitting, that looks better and can protect the screws from rusting in outdoor environments.
Free standing sign holders, of which there are many available, are also a great way of showing general information messages perhaps on reception desks.
Just get in touch if you want to discuss any aspect of your signage installations or would like us to supply and fittings along with your signs.